About Kiss Shop
It all started in Formentera as a small project, with our first local Beso Beach , a meeting point for friends, free souls with whom we created this wonderful tribe.
" Live as if you were going to die tomorrow" – as Leiva says in
one of his songs that he sang with love at Beso Beach for everyone
those free spirits
When you're creating adventures and stories in one of the best summers of your life, you like that you can take something special with you.
In addition to the memory itself, and thus Beso Shop was created.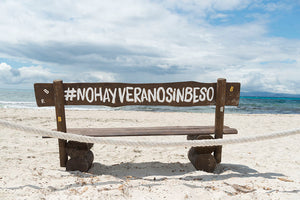 Our mission was to create tangible memories and be present in the lives of all who are part of our tribe .
After seeing success in a short time, we became a LoveBrand.
Beso Shop is not the result of chance, but of the past
professional of the founding partner of Beso Beach Angie López Grijalbo ,
closely linked to the world of fashion and trends.
Beso Shop is possible thanks to this passionate about fashion and design. She carries out the entire process of design, creation, production and
distribution.
We started with the iconic Beso caps and little by little we created new ones
collections, these were expanded to the point that we created the successful line of Beso Perfumes that transmit values ​​and personality.
Fragrances created by great perfumers, who with their notes manage to stimulate the senses thanks to their formula, composed, among other ingredients, of spices and flowers from the islands of Ibiza and Formentera .

Year after year Beso Shop is growing and all this is possible thanks to you.